GoodReads Choice Awards 2014 Semi Finals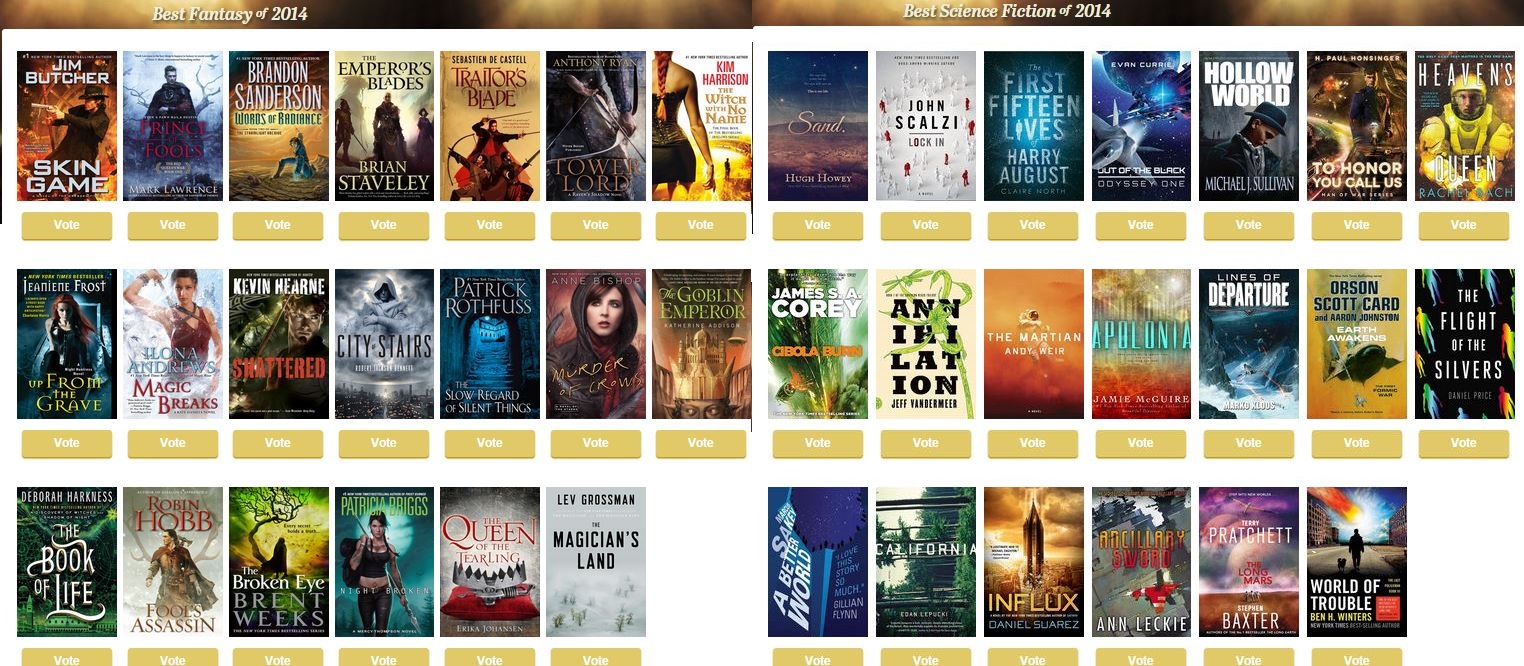 It's time to choose best books of 2014. This year there are 20 categories and in each category there are 20 books. In each category 5 books are selected by write-in votes. Here are the categories and some of my favorite choices, I voted for the first ones.
I list my favorite genres at top; Fantasy, Science-Fiction and Mystery&Thriller. I could not find to vote any books for some categories. There are already more than 2M votes cast (2,061,719)
This year there are lots of books to read in fantasy genre, unfortunately I could not find any chance to read them. I hope to read first five books in the list below.
To see my final votes, you can check this page.
Fool's Assassin: On a shelf in his den sits a triptych carved in memory stone of a man, a wolf and a fool. Once, these three were inseparable friends: Fitz, Nighteyes and the Fool. But one is long dead, and one long-missing.
Fool's Assassin (The Fitz and The Fool Trilogy #1) by Robin Hobb
Words of Radiance (The Stormlight Archive #2) by Brandon Sanderson
Prince of Fools (The Red Queen's War #1) by Mark Lawrence
The Slow Regard of Silent Things (Tales from Temerant) by Patrick Rothfuss
The Broken Eye (Lightbringer #3) by Brent Weeks
Skin Game (The Dresden Files #15) by Jim Butcher
The Emperor's Blades (Chronicle of the Unhewn Throne #1) by Brian Staveley
Fifteen years from now, a new virus sweeps the globe. 95% of those afflicted experience nothing worse than fever and headaches. Four percent suffer acute meningitis, creating the largest medical crisis in history. And one percent find themselves "locked in"—fully awake and aware, but unable to move or respond to stimulus.
Lock In (Lock In #1) by John Scalzi
Earth Awakens (The First Formic War #3) by Orson Scott Card, Aaron Johnston
Influx by Daniel Suarez
Ancillary Sword (Imperial Radch #2) by Ann Leckie
The Long Mars (The Long Earth #3) by Terry Pratchett, Stephen Baxter
Hollow World by Michael J. Sullivan
The Martian by Andy Weir
Cibola Burn (Expanse #4) by James S.A. Corey
Mr. Mercedes is a war between good and evil, from the master of suspense whose insight into the mind of this obsessed, insane killer is chilling and unforgettable.
Mr. Mercedes (Bill Hodges Trilogy #1) by Stephen King
The Target (Will Robie #3) by David Baldacci
Missing You by Harlan Coben
The Son by Jo Nesbø
And then a mysterious package appears at the bookstore. It's a small package, but large in weight. It's that unexpected arrival that gives A. J. Fikry the opportunity to make his life over, the ability to see everything anew. It doesn't take long for the locals to notice the change overcoming
The Storied Life of A.J. Fikry by Gabrielle Zevin
Stone Mattress: Nine Tales by Margaret Atwood
Colorless Tsukuru Tazaki and His Years of Pilgrimage by Haruki Murakami
The Purge of Babylon: A Novel of Survival(Purge of Babylon #1) by Sam Sisavath
Some Luck (Last Hundred Years: A Family Saga #1) by Jane Smiley
Written in My Own Heart's Blood (Outlander #8) by Diana Gabaldon
William Shakespeare's The Empire Striketh Back (William Shakespeare's Star Wars #2) by Ian Doescher
The Sixth Extinction: An Unnatural History by Elizabeth Kolbert
How Google Works by Eric Schmidt
The Emperor's Blades (Chronicle of the Unhewn Throne #1) by Brian Staveley
City of Heavenly Fire (The Mortal Instruments #6) by Cassandra Clare
The Blood of Olympus (The Heroes of Olympus #5) by Rick Riordan